A Place for Connection and Community
The Roz and Gene Chaiken Center for Student Success is a welcoming and inclusive space for all Liberal Arts students to work, study, and connect with peers and support staff. Learn more about college and University resources or further your academic, personal, and professional goals. The center also serves as a one stop shop for information and questions.
Services include:
Open study

 

College and campus resource connection

Peer success coaching drop-ins and appointments
Student success workshops and programming
The Chaiken Center provides programming such as Wayfinding Wednesdays and Find Out More Fridays where students can learn more about resources like first-generation support, tutoring and study help from Penn State Learning, Career Enrichment Network, Pre-Law Advising, CAPS, Sokolov-Miller Family Financial and Life Skills Center, and more.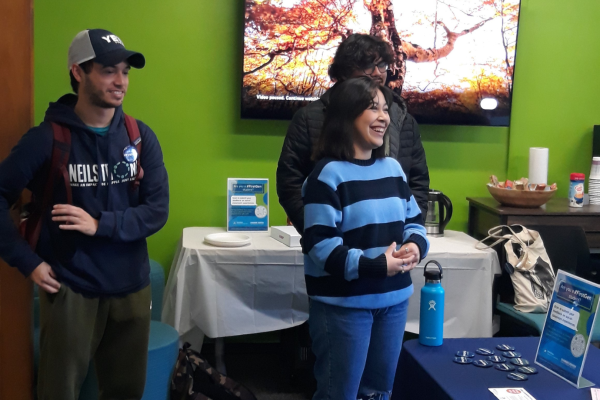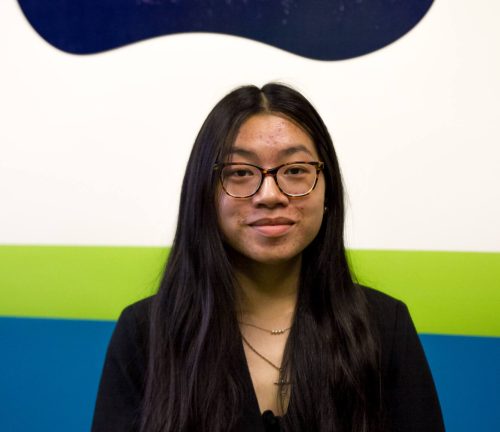 Tatiana is a third-year student majoring in Labor and Human Resources. She is from Dover, Pennsylvania. At Penn State, Tatiana is a member of PAWS, an animal lovers club focused on supporting a local animal shelter; an undergraduate learning assistant for the Department of Statistics in the Eberly College of Science; a member of the Society for Human Resource Management/Society of Labor and Employment Relations; and a member of Everyday Benefitting THON. Tatiana enjoys how interconnected all of the majors are within the College of the Liberal Arts and is looking forward to meeting students and using her knowledge to help others have the best college experience they can possibly have.
"I struggled getting used to the whole college dynamic as a first-year student, and I hope I can assist others in getting used to this amazing and exciting campus. I am a first-generation and minority student. I know what it is like to struggle academically or not know whom to go to for academic concerns, and I want to help others who are facing similar circumstances. My college journey is thankfully supported by several academic scholarships through the College of the Liberal Arts, and I would love to guide others in finding that same support."
Mandoline (Mandy) Bhuiyan
Mandoline is a third-year student majoring in Criminology and Psychology. She is from Norristown, Pennsylvania. At Penn State, Mandoline is the treasurer and outreach chair for DMAX Club, which aims to eliminate the stigma of issues related to mental health and encourage safe and caring conversations about mental and emotional issues among students. She is also a liaison for Penn State Infusion, which organizes a large Bollywood-fusion dance competition on campus. In the College of the Liberal Arts, Mandoline has enjoyed the connections she's made with students and faculty with diverse experiences. She is excited to support students on their academic journey and help them find resources and experiences they didn't imagine were possible.
"As a first-generation college student, I was responsible for navigating through the entirety of the college process by myself. Through copious amounts of trial and error, I feel that I have gained a lot of insider knowledge and tips and tricks that could only have been achieved through personal experience."
Nia is a third-year student majoring in Psychology with a minor in Child Maltreatment and Advocacy Studies. She is from Pittsburgh, Pennsylvania. Nia is a mental health and wellness coordinator for the University Park Undergraduate Association (UPUA) and president of Hope Here Hope Now, which is a human trafficking awareness organization at Penn State. Nia, a first-generation student, really enjoys the humanities and the endless possibilities within the College of the Liberal Arts.
"During the first half of my second year, I experienced a lot of change that I navigated myself through, and those changes helped me learn how to make executive decisions regarding my own college journey. Also, being a first-year student during the pandemic made me figure things out on my own, and therefore, I feel when it comes to navigating Penn State in person or online, I have a pretty good understanding already."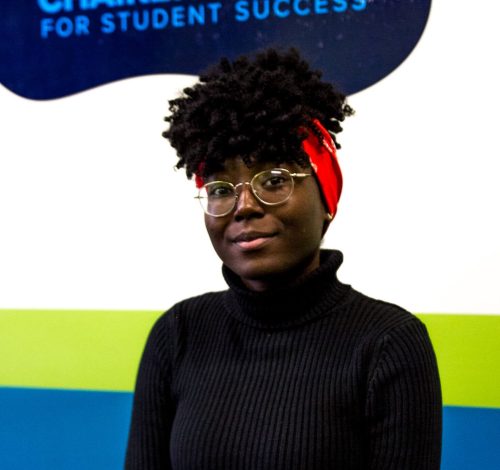 Nykeima is a fourth-year student majoring in Japanese and Sociology. She is from Philadelphia, Pennsylvania. At Penn State, Nykeima is a member of the Japanese Friendship Association, the vice president of K-Pop Music and Dance, and the marketing director of Innoblue. Nykeima has loved the versatility of the College of the Liberal Arts and the vast number of classes and opportunities available. She is excited to be helping fellow students and applying the knowledge she's gained from her own experiences.
"I am a person with many experiences. My unique position as a Black, female, queer, first-generation student means that I am able to relate to many different experiences shared with other students. During my time at Penn State, I have dealt with difficulties with making friends and social anxiety, class scheduling, applying to study abroad, and more."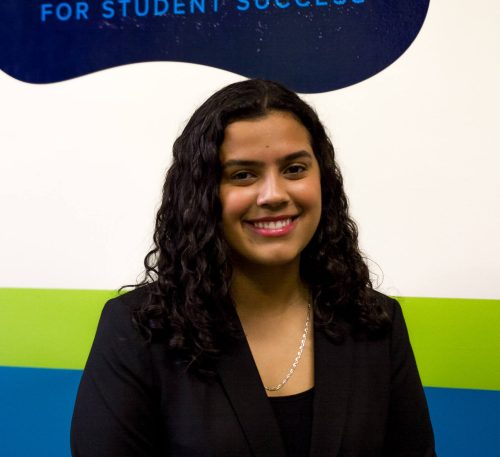 Michelle is a third-year student majoring in Criminology. She is from West Palm Beach, Florida. At Penn State, Michelle is involved with the Multicultural Undergraduate Law Association, which has helped her meet other students who are also interested in the legal field. She is also a Liberal Arts Ambassador, where she enjoys getting to represent the college to prospective students and alumni and participate in events that strengthen the Liberal Arts community. What Michelle enjoys the most about being a student in the College of the Liberal Arts is knowing how many resources there are for her as a student.
"I am inspired to help others achieve their goals. The best feeling is talking to others who understand what you go through as a student and as a person, so I wish to be that for other students. I want to guide students in the right direction so they can be successful and content with themselves…I understand the hardships that students may be going through academically, personally, and socially. Even if there is something I haven't directly experienced, I have the proper resources and knowledge so that I can help a student no matter what their needs may be."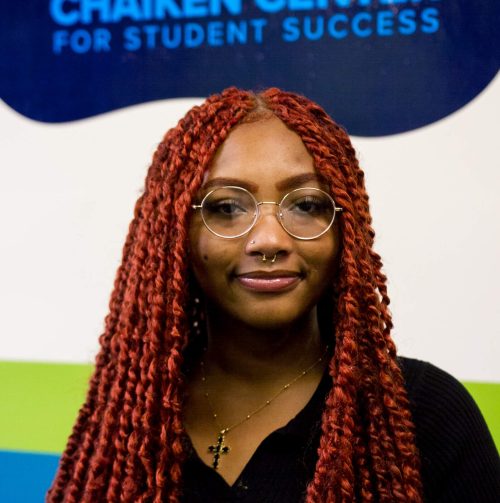 Kaisha is a third-year student majoring in Psychology. She is from northeast Philadelphia. Kaisha is involved in the Penn State Student Black Caucus and Penn State Planned Parenthood Generation Action. Within the College of the Liberal Arts, Kaisha has enjoyed all of the opportunities and resources available and the wide range of majors. She is excited to connect with and serve as a resource for other Liberal Arts students.
"I have struggled in finding out what I truly wanted to do and what path I wanted to take, so I think showing students how to ground themselves and figure out how to find their passion will be the major way I can connect to them."
Students can meet with a peer success coach through the Chaiken Center to get help navigating college and University resources. The peer success coaches act as guides, listeners, and motivational partners to undergraduate students in the College of the Liberal Arts. Peer success coaches are experienced Penn State students who also help incoming first-year, transfer, and change-of-campus students connect with the campus community. Meet with a peer success coach for any of these reasons and more. 
Get help with the first-year, transfer, or change-of-campus student transition and navigation. (First-gen peer success coaches are available.)
Learn study skills, time management, and organizational strategies.
Explore opportunities for applying individual strengths and interests to in and out-of-classroom experiences.
Identify student organizations that match your interests and goals for involvement and leadership.
Design plans for building skills for both your academic and professional goals.
Receive help with basis résumé and LinkedIn building skills.
Create a student success plan that fits your needs.
A Collaborative and Innovative Space
Looking for a group study space? Reserve 139 Sparks Building in the Chaiken Center. It is equipped with a Solstice Pod and other technology available to your group for effective and innovative studying techniques. You can also reserve the space to practice presentations with friends.
If you are a club or student organization connected to the Liberal Arts, you can reserve space for meetings. Our OWL technology allows you to host hybrid meetings so more people can attend.
Email Michelle Powers at mmf17@psu.edu to check availability or to make a reservation. This opportunity is open to all Liberal Arts students.
"The Chaiken Center means community. I know it is a place I am welcomed and validated."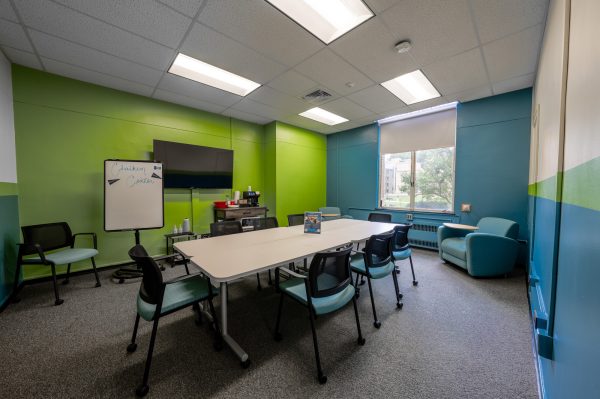 Roughly 25 percent of Penn State's undergraduate student population are the first in their families to graduate from college. Within the College of the Liberal Arts, the Chaiken Center works to provide support and resources for first-generation students. Each year on November 8, the center hosts the college's First-Generation Student Celebration as part of the national celebration by the same name. But our first-generation activities aren't limited to one day a year. The Chaiken Center hosts workshops, brings in first-generation alumni speakers, and organizes meet and greets for first-generation Liberal Arts students throughout the year. 
National First-Generation College Celebration
First-Generation College Committee
First-generation mentoring and success coaching
First-generation funding for out-of-classroom experiences
In 2008, Gene and Roz Chaiken established the Chaiken Scholars program. Every year, roughly 50 Liberal Arts students are selected as Chaiken Scholars based on their academic achievements in high school. Chaiken Scholars receive financial support and access to special resources and programming, including a mentor, workshops, and get-togethers with the Chaiken Scholar community. Chaiken Scholars also have the opportunity to participate in the First-Year Chaiken Scholar Learning Community course.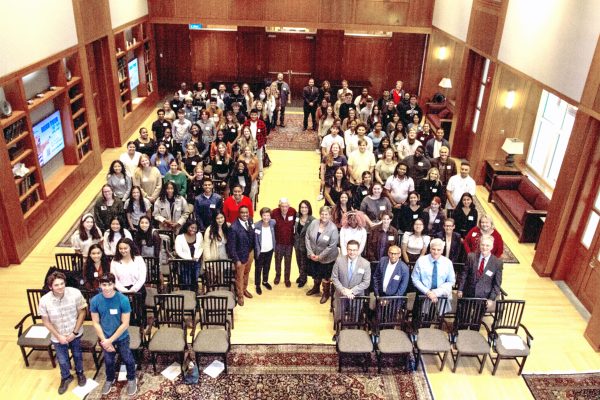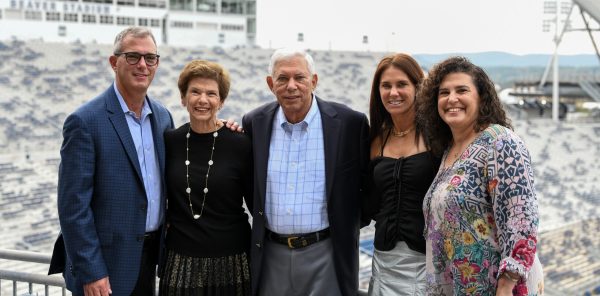 Who are Gene and Roz Chaiken?
Through the philanthropic leadership of Gene and Roz Chaiken, who are cumulatively the most generous donors in the history of the College of the Liberal Arts, hundreds of undergraduates have been able to afford a Penn State education, and the college's academic programs have been permanently enhanced.
A 1962 Business Administration graduate, Gene is chairman of the board for Almo Corporation, and Roz is executive vice president of the family business. Gene has served in many volunteer roles with his alma mater, and the Chaikens have been making philanthropic gifts to the University for decades. They chose the Liberal Arts as their initial philanthropic focus to help establish and sustain the Jewish Studies program, and their desire to ease the financial burden on students led them to establish the Gene and Roz Chaiken Trustee Scholarship in 2008, followed in 2013 by the Chaiken Family Trustee Scholarship.
To date, these endowments have resulted in more than 1,000 scholarships—amounting to nearly $6.2 million in student support. In 2019, the Chaikens cemented their position as the University's largest Trustee Scholarship donors with substantial gifts to enhance their existing endowments. In 2021, the Chaikens established the Roz and Gene Chaiken Center for Student Success. That year, the couple was recognized as Penn State's Philanthropists of the Year. In December 2021, the Chaikens announced their largest gift to date, a single commitment that dramatically increased the Chaiken Family Trustee Scholarship endowment and covered the balance of their pledges for other student-related funds including the Chaiken Center for Student Success endowment and the Chaiken Centennial Graduate Endowment. As a result of their gift, the Penn State Board of Trustees agreed to name the college's currently under construction building the Susan Welch Liberal Arts Building. 
Gene has been honored as a Penn State Distinguished Alumnus and Alumni Fellow, and in 2013, the college created and presented Roz and Gene with the inaugural Chaiken Leadership Award, which annually recognizes an individual or couple for outstanding generosity. The Chaikens' genuine warmth and affection for the recipients of their support, as well as their extraordinary philanthropy, will have lasting impact in the College of the Liberal Arts and throughout the Penn State community.