It's never too early to start assessing your strengths and taking steps to develop the skills and tools you need to prepare for your future. The Liberal Arts Career Enrichment Network provides many opportunities for students to assess and build upon their strengths.
Professional Development Course
LA 103 Professional Development for the Liberal Arts Student helps students prepare for post-graduation educational and career plans. Course topics include:
Resume and cover letter writing
Interview skills including mock interviews with alumni and employers
Networking
Leadership enhancement
Employer panels
Liberal Arts career coaches are here to help you with any aspect of your career journey. We believe that the more your strengths, values, and interests align with your intended work environment, the more satisfaction you will derive from your chosen career field.
Our goal is to help you identify your interests, strengths, and values, explore meaningful careers based on that information, and then put that exploration into action. Whether you are a first-year student, upcoming graduate, or anywhere in between, we can support and assist you in assessing your strengths and applying them to your career field of interest.
We do this in career coaching by meeting you where you are and helping you with the following.
Develop Self-Knowledge:

Defining Your Career Success
Identifying what you value in a career path.
Identifying career interests
Career Decision Making
Diversity, Equity, and Inclusion in the Workplace
Career Assessments

Explore Occupations and Further Education:

Connecting Education Abroad to your goals
Informational Interviews
Relevant resources
Networking with Employers
The Job and Internship Search
The Grad School Search

Create Strategies for Career Planning:

Goal creation
Resume and Cover Letter Reviews
Interviewing Skills
Salary and Offer Negotiation
Tools for Career Planning
Liberal Arts Career Week is designed to provide professional development and networking opportunities that will support your future career paths. By participating in the week's employer and alumni panels, workshops, and networking events, you can learn the skills you will need to embark on your career journey and achieve success in your professional lives.
Join the Liberal Arts Career Enrichment Network and take advantage of all the great events and networking opportunities.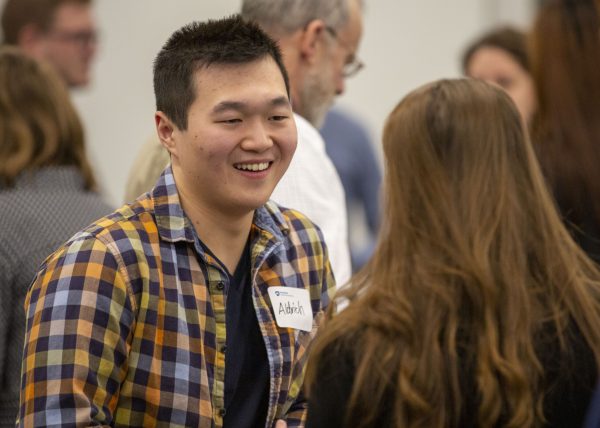 The CliftonStrengths assessment tool helps you discover and understand your strengths and talents. It provides you with a list of your "top five signature themes," which can help you enhance behaviors that lead to success, focus on your strengths, and understand how to translate your behaviors and strengths into a career or post-graduate education plan. We encourage students to schedule an appointment with a career coach to discuss results. Keep in mind that CliftonStrengths is meant to help you explore your goals and is not a "career-finding" tool.
This assessment is only available to current undergraduate students with at least one major in the College of the Liberal Arts at Penn State University Park or Penn State World Campus. If you are not a student in the College of the Liberal Arts, contact your college and/or career services office at your college for information about assessment tools available to you. Please do not share your code with another student; this tool is paid for by Liberal Arts alumni and should only be used by Liberal Arts students.
Completing CliftonStrengths can help you:
Recognize talents and shape them into strengths
Identify skills that will help with your future career
Assist with exploring careers that match your strengths
Offer guidance about how to build your strengths and talents
Provide interview preparation tips
To complete CliftonStrengths®:
Complete the CliftonStrengths Access Code Request Form. Please allow three business days to receive your code.
After receiving your access code, visit gallup.com/cliftonstrengths.
In the top right corner of the main page, click on the Redeem Code button.
On the Registration page, enter your access code and click the Continue button. Follow the on-screen prompts to create your account, including your username (email address) and password. The access code is not case-sensitive. If you need help signing in, please visit the GALLUP Access Help Center or call the GALLUP Access Help Desk at 1-888-486-9104.
When you are finished with the registration, click on the Create Account button to complete the CliftonStrengths assessment. Allow 45 minutes. If you lose your connection, sign in with your username and password; you will automatically be returned to where you left off. You have 20 seconds to respond to each item. Once you've completed the CliftonStrengths assessment, you will receive your Signature Theme Report and have access to additional resources.
Your Signature Theme Report
After you receive your Signature Theme Report, schedule an appointment via Nittany Lion Careers with a Career Enrichment Network staff member who has "Liberal Arts" next to their name. Prepare for your meeting by doing the following:
Have your report accessible for your meeting.
Bring any professional development materials you are working on: resume, cover letter, internship/job description, etc.
Bring questions and discussion topics that will assist with completing class assignments related to CliftonStrengths.
Think about what you would like to get out of the meeting. For example:

Are you preparing for an upcoming interview and want to learn how to integrate your strengths into your answers?
Would you like to improve your resume by talking about your strengths more powerfully?
Connect with the Career Enrichment Network on social media: