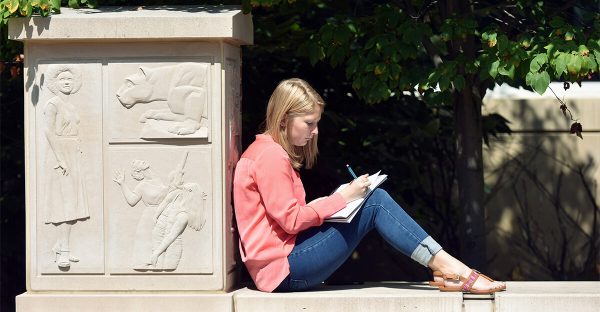 Comparative Literature explores exciting approaches to literature and culture in a global context. It also examines global media (print, visual, electronic), and engages with questions of ethics, human rights, and the real-world contexts of literary and cultural production.
Degree Types:
Bachelor of Arts
Student-Designed Thematic Concentration
Foreign Language Concentration
English
Foreign Languages
Theatre
Women's, Gender, and Sexuality Studies
You might like this program if…
You are curious about other cultures beyond your own and want to learn to think critically and creatively about cultural difference and convergence in our interconnected world.
You want to acquire important skills such as analytical writing, argumentation, and communication in an international context.
You are interested in acquiring knowledge of a second language and/or culture, which is a key component to success in the global economy.
International literature
Film and Literature
Graphic Novels Around the World
Postcolonial Literature
Ethics and Human Rights in Global Literature
Video Game Literature Studies
Out-of-Classroom Experiences
Penn State Office of Strategic Communications
Penn State Digital English Studio
Post-Graduation Opportunities
Law school
Graduate school to study English and library and information science
Library/Information Sciences
,
Management
,
Marketing
,
Research
,
Service (Teach for America)
,
Sports Operations
Have questions about this program?
This program is housed in the Department of Comparative Literature
at
Penn State University Park
.