Communication Arts and Sciences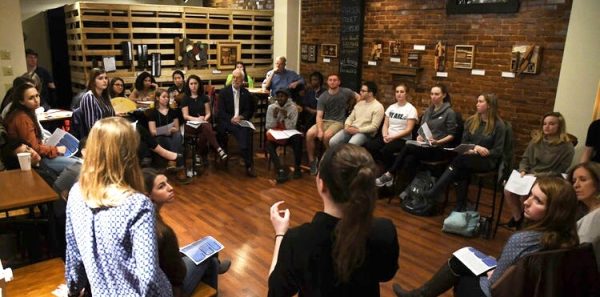 Communication Arts and Sciences is committed to the study, teaching, and practice of human communication for the betterment of Pennsylvania, the nation, and the world. Using methods and theories that span the humanities and social sciences, we create knowledge about the role of communication in diverse interpersonal, communal, national, international, and cultural settings. Our research is integral to our educational mission: to promote greater understanding of and facility with oral, written, and nonverbal communication.
Degree Types:
Bachelor of Arts
,
Bachelor of Science
,
Minor
BA option: Foundations, Scholarship, and Practice
Political Science
Philosophy
Journalism
You might like this program if…
You want to learn about the importance of human communication from a scientific perspective.
You want to learn how to craft effective messages for different types of audiences.
You want to develop critical thinking skills and the ability to analyze data in order to understand how messages influence audiences.
You want to acquire theories, methods, and practical tools to understand the roots of social conflict and help change them through improved practices of communication.
Conflict Resolution and Negotiation
Persuasion and Propaganda
Interpersonal Communication
Rhetoric and Law
Intercultural Communication
Out-of-Classroom Experiences
The Michael J. Fox Foundation
Capitol Advocates
Altria
Pittbsurgh Steelers
U.S. Department of State
Ally Bank
Deloitte
Highmark Health
Post-Graduation Opportunities
Law school
MBA
Graduate school to study clinical psychology, education theory, human resources, human rights, marketing communicaiton research, public administration, and international affairs
Communications
,
Consulting
,
Education
,
Government
,
Human Resources
,
Management
,
Research
,
Service
,
Social Justice and Advocacy
Have questions about this program?
This program is housed in the Department of Communication Arts and Sciences
at
Penn State University Park
.